Laser Hair Removal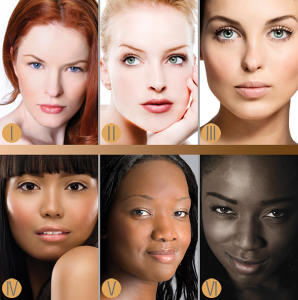 The Fitzpatrick Scale divides your skin into 6 numbered categories from Type I to Type VI , with Type I being the lightest possible skin colour, and Type VI being the darkest.
So how is this relevant to you?
Knowing where you are on the scale would help you determine what cosmetic products and procedures are most suitable for your skin type. The Fitzpatrick scale is also used by your dermatologist or skincare expert to determine which cosmetic procedures or treatments would be most appropriate for you.
For example, those with Fitzpatrick Skin Type I to II would need to be careful when undergoing IPL hair-removal procedure because the IPL light beam might not remove hair effectively enough for these skin types. This is because IPL gets rid of hair by emitting energy which is absorbed by the hair shaft's melanin cells. Once the hair shaft absorbs this energy it is rapidly destroyed. If your hair shaft does not have enough melanin, it might not be destroyed.
Our Equipment
Our IPL (Intense Pulsed Light) hair removal machine uses a broad-based light of multiple wavelengths. Intense pulsed light systems release precisely controlled strong pulses of filtered light that are absorbed by the pigment in the hair (melanin). This heats up the hair and destroys the cells responsible for hair growth targeting the melanin (color) of the hair follicle and shaft to disable hair growth. This results in Permanent Hair Reduction.
The Beauty In You is committed to helping our clients achieve the look they have always desired. Literally thousands of people have had embarrassing hair problems permanently eliminated with laser hair removal and you too, can enjoy the same results! Utilizing the world's most advanced IPL lasers for the elimination of unwanted hair; our trained specialists are able to tailor specific treatments to your individual skin and hair type.
Laser and pulsed-light laser machines remove hair faster. In an hour or less, most body areas will be hairless and silky smooth. After three to four treatments, most patients report little, if any, regrowth. Why struggle with unwanted hair when an affordable and permanent solution is readily available?
How is the treatment carried out?
You will be asked to put on goggles to protect your eyes. A layer of ultrasound gel is applied to the area to guide the light into the skin. The area will also be cooled by gel to increase comfort during treatment. The light guide is placed on the skin and a short pulse of light is released, targeting many follicles simultaneously.  Multiple pulses at the same target with a specific delay between pulses can cause a slight improvement in the heating of an area which results in exceptional hair reduction for each treatment. The applicator is then moved to the neighbouring area of skin and the process is repeated until the entire area is treated. The hair follicles are damaged by heat but the hairs remain in the follicles.
After your laser treatment, you will discover smoother, younger-looking skin. In most instances you may return to normal activities immediately after your treatment. Some individuals may experience the following symptoms:
• Tenderness
• Mild redness
• Some swelling
• Dry skin
• Perifollicular edema (swelling around the hair follicle)
• Erythema (redness)
Between sessions:
Specific to your skin needs, you may need to refrain from applying skin care products, fragrances or makeup for at least 12-24 hours. Depending on your sensitivity level, you may want to apply a cold compress to soothe treated areas after your treatment.
Avoid direct sunlight for 24 hours and use SPF 30+ on treated areas. To cleanse the area, use cool to lukewarm water and a non-abrasive cleanser free of artificial oils, detergents or fragrances for facial areas. You must avoid the use of toners for 48 hours and moisturize daily with non-comedogenic moisturizer. Your technician will help you develop the skin care regimen that's right for you.
The hairs fall out after 1 -3 weeks as the epidermis renews. During this period you may experience the visibility of hair on the treated area. The hairs will seem to 'grow' as they are pushed out by the new epidermis. After treatment the hairs are loose in the follicle and will easily fall out. The shedding of treated hair can occur within days or weeks following your visit. To expedite this process, you should exfoliate daily using either a loofah or a gentle exfoliating cream 24 hours after your treatment.
What should I do before my next treatment?
In order to maximize the effectiveness of your treatment, we recommend that you shave 24 hours prior to treatment. Please do not use depilatory creams, tweeze or wax in between your treatments. Tweezing and waxing will not only remove the target for the next laser treatment, they will disrupt the synchronization of hair growth cycles that we are trying to achieve with the treatments. The more hairs are in the same growth cycle, the more effective the laser treatment will be.
*PRICES SUBJECT TO CHANGE WITHOUT NOTICE