Lipo Laser
Lipo Laser emits low levels of laser energy, which creates a chemical signal in the fat cells, breaking down the stored triglycerides into free fatty acids and glycerol that are then released though channels in the cell membranes.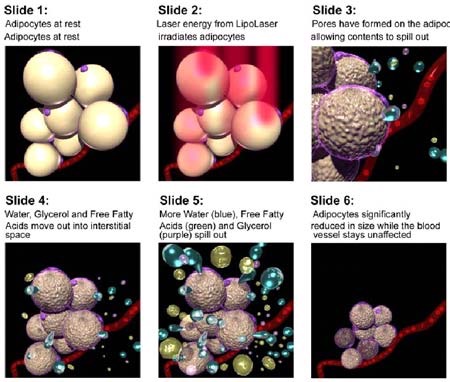 The fatty acids and glycerol are then transported around the body to the tissues that will use them during metabolism to create energy.
This process of fatty acid release is a natural response of the body when the body needs to use stored energy reserves.
This treatment is not creating any unnatural reaction in the body nor does it affect or damage any surrounding structures such as skin, blood vessels, or peripheral nerves.
A period of exercise post treatment will ensure the complete elimination of the freed fatty acids from the body.
These statements contained herein are for informational purposes only.
This treatments are not intended to diagnose, treat, cure or prevent disease.
Always consult with your professional Health Care provider before beginning any health regimen.
*PRICES SUBJECT TO CHANGE WITHOUT NOTICE