Microdermabrasion
Diamond Dermabrasion is a non-surgical skin refinish procedure, by using sterile diamond heads to removes all dead skin cells off of the face and body along with a suction to help vacuum the dirt and dead skin.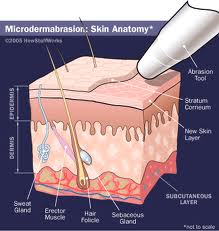 This procedure helps minimize the appearance of imperfections, blemishes, wrinkles and unwanted pigmentation on the skin and removes all traces of dead skin cells. Suction also has the added benefit of stimulating collagen and elastin as well as increasing blood flow to the skin.
This accompanied with skin products that penetrate through the top layer of skin that reach the dermis level provides an instantly revived complexion and healthy glow, while collagen and elastin work to build stronger and more youthful skin.
Moderate usages of Diamond Dermabrasion helps to replenish natural nutrients, restore cell activity, and promote skin health.
---
Individual Treatment: $75.00
Package of 5 sessions: $325.00
*PRICES SUBJECT TO CHANGE WITHOUT NOTICE